Coach K Might Be Beating Coach Cal At His Own Game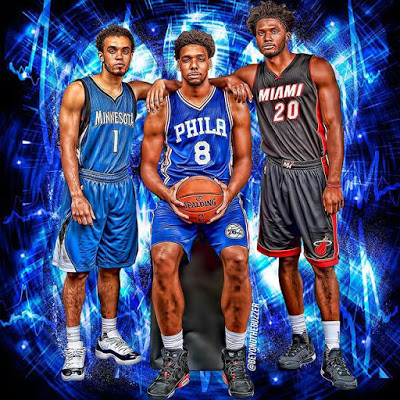 Does that "K" in Coach K stand for
Kentucky?
That's what it might seem like
recently, after Duke's Mike Krzyzewski apparently transformed his recruiting philosophy since his 2010 NCAA championship team to be closer to that of Kentucky coach John Calipari. That 2010 Duke team, driven largely by senior starters
Jon Scheyer, Brian Zoubek, and Lance Thomas, never had a full chance to defend
or recapture its crown in the following years, after its ranks were depleted by
those three's graduations that summer.
Duke's recent 2015 championship
team won't have that chance either, but for a completely different reason:
instead of graduating, freshmen starters Jahlil Okafor, Tyus Jones, and Justise
Winslow all got promoted.
Duke's underrated NBA appeal has received more of its proper due recently, as multiple articles counting Duke among the most productive in terms of big ball talent shows. But not enough focus has been placed on the very top recruits, the Jabari Parkers and the Kyrie Irvings, the 1% of the 1% of freshmen who are good enough to leave college after just one year. And maybe commentators are right: when Calipari had 4 freshmen selected in 2010, including #1 overall pick John Wall, he all at once doubled the number of freshmen that Krzyzewski had ever sent to the NBA in his decades-long career at Duke by that time.
But a new narrative surrounding the one-and-done phenomenon has begun to emerge since 2011. It's a story with strong, disruptive waves currently emanating out of Durham, NC, that have the potential to completely upend the received wisdom around men's basketball recruiting.
The phenomenon of the one-and-done
has been here since 2006, when the NBA put into place its current 19-year old age
requirement. Since then, Kentucky coach John Calipari has re-engineered his
universities, whether Memphis or Kentucky, into well-oiled factories that succeed by promising Top 100 high school recruits NBA-money after just one year. In the 8 NBA drafts since 2008, for instance, Calipari has coached the #1 overall pick four times — each of them freshman.
It would, however, be several years
of agonizing wait before Coach Cal's system achieved the ultimate prize in NCAA basketball. In 2012, Kentucky may have arguably had the first
through-and-through, one-and-done championship team. College rookies had played
starring roles on past championship teams, like Carmelo Anthony in 2003. But in
contrast to Melo's more experienced supporting cast, Kentucky was fully led by freshmen
Anthony Davis, Michael Kidd-Gilchrist, and Marquis Teague.
According to Sports-Reference.com
, this trio altogether
averaged over 31 minutes of playing time per game, and made up 46.6% of their
team's average points per game.
Coach Cal, while never replicating
his championship dreams in the years since those 3 left Lexington, seems to
have only opened up his lead over other colleges with draft picks since then.
It was just 2 months ago that
he tied the single-year record
for number of draft
picks from one school…with himself, because 6 Kentucky players were also chosen
over two rounds in 2012.
And if Kentucky leads the rest of
the NCAA in one-and-done NBA stock, then their lead over the more veteran-laden Duke could only be greater,
right?
Well, not necessarily.
Kentucky does have almost twice as
many freshmen draft picks as Duke since 2011 — 11 to 6. But although Kentucky plays more
freshmen, Duke now plays
better
freshmen.
That's because although Kentucky's freshmen triplets altogether averaged 36.1
points per game, Duke's own 2015 trio — Jones, Okafor, and Winslow — outpaced them
by almost 5.6 points, at
41.7 combined points per game
.
And while Coach Cal has had more
picks since 2011, Coach K's own rookie picks can expect to be drafted at a
better position. Calipari's crop of 2011–2015 freshmen averaged
a draft position of 9th
, while Krzyzewski's own 6 rookies over those years were
drafted at
an average position of 8th
. That might not seem like a
big difference, but just try telling that to this year's 9th pick, the Hornets' Frank Kaminsky. He can expect to make $600,000 less than this year's 8th
pick, the Pistons' Stanley Johnson, over the course of their respective
3-year rookie contracts
. All of that great Carolina barbecue Kaminsky has coming his way still might not be enough to make up for that difference in salary.
Even a head-to-head matchup
of these two program's recent flagship players tilts in Duke's favor: Kyrie
Irving, his year's #1 pick like Anthony Davis, won the Rookie Of The Year
Award, while Davis lost out to Damian Lillard.
The most frightening thing for all
of the Wildcats out there (or Tar Heels) is that Duke seems
poised to continue the reversal, and possible overturning, of this trend over
the next few years.
Per ESPN
, Duke has the top-ranked incoming class for this
year's season. It includes four Top 100 recruits, as well as three 5-star
recruits, among them the #1 overall small forward, Brandon Ingram, and Derryck
Thornton, the #3 point guard. Kentucky's class, although containing the top
center and top point guard, has only two 5 star recruits, and three ESPN 100
commits.
Furthermore, only 1 recruit out of the Top 10 for 2016 has firmly committed to any school yet, and it just so happens that #1 overall small forward Jayson Tatum will be taking his talents…to Duke.
If top recruits are already adding up their millions when they get the call from Calipari, as many cynical observers believe, then maybe those recruits should start adding these numbers into their calculations too.